Welcome to C. G. Bhakta Institute of Biotechnology
News
Program Schedule - National conference on 'Microbiome research': Understanding the diversity to improve plant, animal, human and environmental health 07th - 09th March, 2019
Many Congratulations to Ms. Kajolpreet Mayall (Final Year M.Sc. Biotechnology) for receiving the Second Prize - for Poster Presentation Competition under the guidance of Mr. Bhrugesh Joshi.
"Many Congratulations to Ms. Divya Ezhuthachan (Final Year M.Sc. Biotechnology) for receiving the First Prize - "Best Poster Presentation Award" (Category Life Sciences) under the guidance of Dr. Mitesh Kumar Dwivedi for Research on Rheumatoid Arthritis at National Conference on Recent Trends in Pure and Applied Sciences - 2019 held on 24th February 2019 at Bhagwan Mahavir College of Science and Technology, Surat."
Congratulations to MS. Firdosh Shah (Int. M.Sc. Biotechnology; Sem X) for receiving the First Prize for Best Poster presentation under the guidance of Dr. Mitesh Dwivedi; in "XXXIII Gujarat Science Congress 2019" held at L.J. Institute of Applied Sciences, Ahmedabad on 3rd February 2019.
GUJCOST and GSBTM sponsored National Level Workshop on Prospects and Challenges to Become Bio-Entrepreneur Through Student Start-Ups on 01 & 02 February, 2019
- Brochure
- Registration form
Advertisement for the position of Junior Research Fellow at C. G. Bhakta Institute of Biotechnology.
Students of CGBIBT under the guidance of Dr. Sankaranarayanan selected one among the top 20 teams for National level competition.
'CGBIBT is going to organize a GSBTM sponsored 12 days crash workshop for cracking National level competitive exams (Biology stream)'
National conference on 'Microbiome research': Understanding the diversity to improve plant, animal, human and environmental health 07th - 09th March, 2019.
Congratulations!! Dr. Giftson J Senapathy, Asst. Professor - CGBIBT, UTU has received the 'Best Oral Presentation Award for Research' in the 'International Conference on Phytomedicine-2018', 29th-31st August, 2018 at Bharathiar University, Coimbatore.
"Prof. Krishnamurthy, Director - CGBIBT & Dean - Faculty of Science, UTU delivered Keynote Address at "U6 6th International Conference", 4-6th Sep 2018, CPUT, Cape Town, South Africa"
"This is to bring to the notice of fresh students (First Year) of the following courses that the academic year 2018-19 is going to commence from 25th June 2018. ( B.Sc. Biotechnology, B.Sc. Microbiology, Integrated M.Sc. Biotechnology, Integrated M.Sc. Microbiology, M.Sc. Biotechnology, M.Sc. Microbiology) The students are requested to be present at the institute at 8-15 AM. -Director, CGBIBT "
CONGRATULATIONS to Dr Mitesh Dwivedi for receiving "RECOGNITION FOR OUTSTANDING CONTRIBUTION TO THE FIELD OF AUTOIMMUNITY" and delivering a talk on "DEREGULATION OF REGULATORY T CELLS: COULD BE AN ANSWER FOR AUTOIMMUNITY IN VITILIGO PATHOGENESIS" in "11th International Congress on Autoimmunity, Portugal held during 16 May, 2018 to 20 May, 2018)".
C. G. Bhakta Institute of Biotechnology is the pioneer center to establish the discipline of Biotechnology in south Gujarat region.
It offers 5 year M.Sc. integrated Biotechnology, 5 year M.Sc. integrated Microbiology, 2 year (post graduate) M.Sc. Biotechnology, M.Sc. Microbiology as well as Ph.D. programme in Biotechnology and Microbiology.
It has developed state of the art infrastructure and study environment with modern amenities and blossoming into the first choice of the student of this region.
Mission
To integrate our education, research, innovation and enterprise for the long-term benefit of humanity.
Vision
To have a radical approach towards education, research and innovation, this will inspire staff, students and other stakeholders to understand how the world is envisaged and how knowledge is created and shared in global perspective.
---
Goals
To manage total quality in everyday proceedings.
To pay primary importance to incorporate innovative learning and teaching tools and research methodology.
To give exposure to the students about recent developments in academic research and technology by organizing lectures from expert personalities from around the globe.
To enhance confidence level of the students by regular monitoring through a comprehensive evolution system.
Other endeavours
In addition to academics, the students are introduced to personality development programmes which would help them to be moulded into capable individuals.
Importance is also given to extracurricular activities which would bring out hidden talents in the students and encourage them to nurture them in future.
Overall the students are trained in every possible way so that they become responsible, competent and endearing citizens.
Principal Themes
Academic headship rooted in intellectual excellence.
A leader in the integration of education and research.
Addressing global challenges through disciplinary excellence and distinctive cross-disciplinary approach.
Creating global impact through a network of innovative international activities, collaborations and partnership.
Key Enablers
Giving students the best support, facilities and opportunities .
Valuing equality and diversity among staff.
Creating systems and practices in support of CGBIBT's vision.
Maintaining a sustainable environment to meet our aspirations.
Communicating and engaging effectively with the global community.
DIRECTOR'S MESSAGE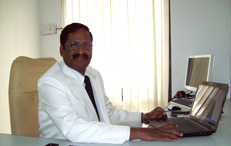 Dr.R.Krishnamurthy,M.Sc.,Ph.D.Professor & Director
Biotechnology is no longer a fledging technology; it is a driving force in the region and the state, as well as the world.
The Program is doing well and continues to contribute to the great mission of research, education and outreach by the institute. With the unique staff, I feel confident that the present academic program will continue to be a catalyst for new endeavors in education and training in biotechnology and Microbiology and its related disciplines.
I intend to apply my vision, passion, discipline and conscience to Developement of the Program and continue the legacy of innovation and visionary leadership. Let's work together to create a better tomorrow.